Review by Rich215

I have not really seen many good reviews lately on robots...so here goes.

I have put in a few hours on it now and can give a decent review.

First off, let me get a big question out of the way first. NO....this robot can not send different spin changes with programming. Only a few robots can have programmed spin change with consecutive balls...one seems to plasticky (is that a word?) and the other is very expensive. But I am not sure if the new AMDT/Oukei 2007-08 can do programmed spin changes or not.


This robot has never jammed or skipped a beat once! High quality craftsmanship through out.....except the net needs modification. I think they retrofitted it as it looks identical to the AMDT one. Sometimes the balls bounce off the metal net supports or motors on the head....I am going to add some foam guards to those areas when i get a chance. Basically, I think the net needs to be a little wider on the side catches. I say this because the fit at the corners of the table are tight. I cant tell if I'm hitting the very edge of the table on some shots because the net touching the sides of the table and the very corners.

The robot is very quick and easy to setup. Each side panel is held to the table by a simple quick screw clamp holder next to the net.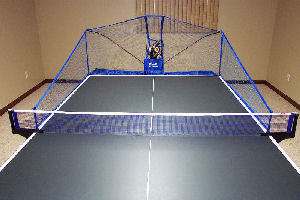 The control pad also connects quickly to the table at your fingertips quickly with the same type clamp and a simple slot fitting. At first I was nervous to put much pressure on the pad when changing settings...because I wasn't sure if the way it attached to the clamp was strong enough....but it is!
The controller has a nice layout to set the Top wheel spin velocity, then the bottom wheel velocity, and the per min ball amount. I normally use it at 2-4 for balls per min. Next to these controls is the setting for how many balls you can have throw at one time. I normally do 12-24 balls per sequence pending on the drill I'm doing. Then on the lower section of controller, you have the red button for on and off ball throwing. (the power switch is actually on the lower back of the robot itself). To the left of the red button is the selection button for your sequence you can program. You can set it to so any sequence of landing areas up to 50 balls. Simply press the yellow button and then press any of the 1-11 lower buttons to select the landing areas for your sequence. Then press the red button and its shooting balls at you that quick for what ever sequence you just programmed in. The yellow button to the right of the red start button is for turning on the random long or short throw of your sequence. This is nice as it helps to mix up your drills.

Adjustments at the robot itself are changing the up and down tilting angle of the head, and angle of spins. Basically you can change spins with the 2 wheel motor settings, and also by rotating the head in five positions. Straight up and down, 45 degrees to the right, 45 degrees to the left, and 90 degrees to the right , and 90 degrees to the left. So spin types can be covered pretty well, you just do not have the ability to program diff spins in a sequence of balls, you have to stop and then make an adjust meant on the control pad or the throwing head. Changing the up/down angle of the head is quick....just loosen up the left side set screw and turn the head with the big silver knob on the right and then tighten the set screw back up. The angle of the head is sort of free floating and clicks into pace for 0 degree (straight up and down), 45 degree, or 90 degree throwing angles.
The robot will probably hold about 134-144 balls. The balls are pushed up to the head with a rubber sprocket. I think i tested to see what a minimum # of balls it took to load it to actually work....about 36 or so to fill it from the head to the entrance of the bowl. I have about 50 balls in it now...as you can see its barely enough, as you will spray balls over the net...off the table or what ever....so 50 is probably minimum. I just stop if I have too many balls laying on the floor or on the robot side of the table top, then pick them up and practice serves into the netting. This gives your arm a break after smashing so much.......that's the first problem you will have with a robot....you will want to power smashes and loops till your arm and back muscles give out....haaaa like i did the first few times.


I got my robot direct from China. It did not have an American voltage regulator built in......(china runs on a different phase 220 electric outlets). So I had to get a voltage transformer to step the 110 voltage up to 220. No you can not use an American 220 outlet ...its a totally different phase...you will cause some arcs and sparks I'm sure ..and blow up your robot if you do! The one thing I was not sure about was the actual wattage it may pull at max. I got a 500 watt transformer...probably overkill....but I didn't want any problems. It was about $32 from an online source.....I have it somewhere if anyone needs it. I know that paddle pallace sells this robot to, but not sure if they are converted to US electrical standards or not?


And the robot comes with a nice extending ball pick up net, and 100 training balls...they are fairly hard and stiff.....I didn't want to ware out my rubbers with them...the just felt way too hard with a robot to me. I use DHS 3 star and Double Fish 3 star balls.

So there you go...a quick pictorial overview of the Y & T 989-E robot!

I wish I could of had this info on a few robots before I bought this one.....not that I do not like mine...I just had a hard time finding good solid info and pics of robots before I got one. I bought this robot from www.fareastsporst.com they responded very quick to any questions I had. The robot was shipped via EMS world express from China to Michigan USA in just 6 days! I have bought a few things from them since....very good place to buy from in my opinion. They have a lot of stuff, you just have to verify with them exactly what you want. They told me they have a very large wholesale type inventory and many things are stocked in bulk. So sometimes certain variations of rubbers, or blades are in or out of stock because the manufactures produce this way and he buys this way. They told me if you dont see something just ask....because it was so hard to setup an English version website with so many products they have on their other Chinese only site.


Ok...time to go smack a few with my new blade before I go to bed.
Interested in buying a table tennis robot? Click here for specials and buy direct