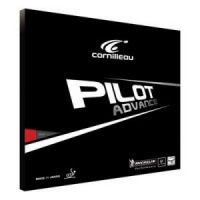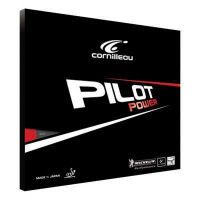 Cornilleau Pilot rubber description:
"The PILOT rubber range is the result of an important tri-party research and development program by Cornilleau, Michellin and the best Japanese Experts. Thanks to the unique shape of it's pimples, the SPIN-DRIVE technology - innovation developed by Michellin for Cornilleau - presents 3 advantages: more spin, greater precision and durable adherence. IN-TENS is at the height of sponge technology in terms of energy restitution, sound and the ball feel. This project was led by Jean-Philippe Gatien (World Champion and two times Olympic medalist). His indepth involvement and passion have, through a demanding series of tests, helped secure a level of performance that will convince you from the word go."
Each PILOT covering top-sheet developed by Cornilleau and Michelin experts has a special formulation to optimise elasticity and also a unique pimple shape.
The specific geometry limits buckling formation (uneven deformation) thanks to an optimal pimple resistance under ball pressure, which provides you with MORE PRECISION. Buckling reduction avoids creation of a «waving» phenomenon between the rubber and the ball, and enables the possibility to give MORE SPIN.
3D VIEW OF THE CONTACT BALL / RUBBER
Traditional pimple (left):
• Numerous non contact areas with the ball
• Important zones of overpressure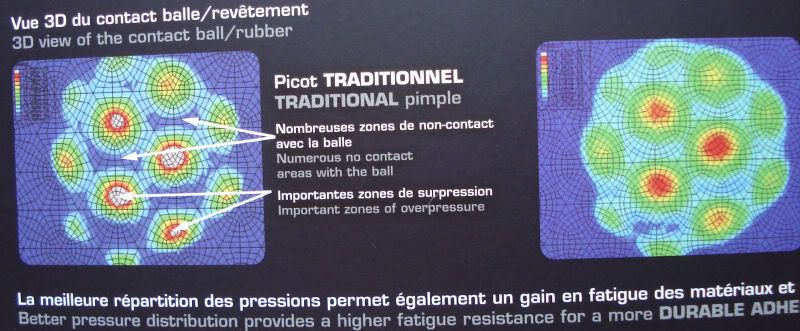 Spin-Drive pimple (right)
• A more homogeneous contact area
• Better contact with the ball
• Less overpressure
Better pressure distribution provides a higher fatigue resistance for a more DURABLE ADHERENCE.
IN-TENS sponge is indisputably one of the most effective sponges on the market in terms of energy restitution. It provides a better response in the most attacking shots adding better control, ball feel and precision as well as providing maximum pleasure thanks to greater comfort and optimal sound effect. IN-TENS technology will without any doubt make you forget the era of speed glue and boosters that is past and gone for ever!
Advance Sponge: 46deg | Power Sponge: 32deg
Review:
Packaging looked very good with lots of information, most of which is shown above. The sheets have one of these supple adhesive plastic sheets attached to the top-sheet, instead of a paper sheet. There's a few other Japanese manufacturers that do the same thing, and I personally prefer this, as it makes the sheet a lot easier to handle, and could potentially preserve the sheet longer (just guessing here
).

The sheets looked of high quality, as good as most other Japanese made sheets. Checking out the topsheets, it feels thin, fairly soft and very elastic. Both sheets had a mild done when taken out of the packet, nothing unusual, pictured below (Advance on the right):




The sponge felt springy and looked porous, although not quite like the recent sponges such as Tenergy / Baracuda / Hexer, etc. Close-up of both rubber is shown below (Advance on the right):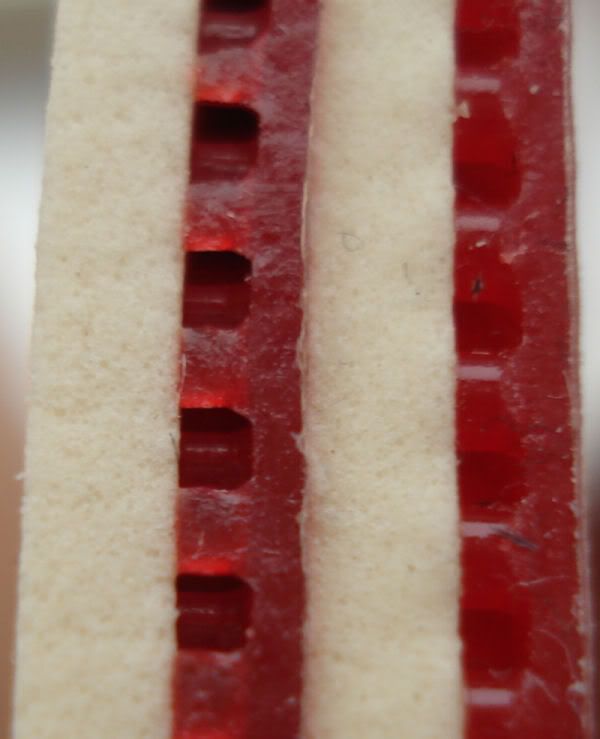 I glued a sheet of Pilot Advance (max) and Pilot Power (max) to one of their Hinotec carbon blades (to be reviewed seperately). This is fairly fast carbon blade, with hinoki outer layers giving it a softer feel, and despite the carbon layers it still has some spring.

Speed:
Pilot Power:
This rubber is quite fast, and the sponge soft and VERY lively. You can generate good pace with very little effort with this rubber. I've tried a lot of Tensor and the like on my backhand, but I have not found a rubber that made it so easy to attack/flip a short ball. The top-sheet has a lot of grip and the soft sponge make it easy to dig the ball in. and the very lively sponge makes it a lot easier to attack a short ball, and with speed and good spin. Not only could I generate good speed with some forwards motion, but I could generate a slow very spinny loop with more upwards wrist action... more on spin later...

Blocking against loops returns the ball fast. Blocking passively is not the best as the lively sponge makes it quite bouncy, but a more aggressive punch block or counter-hit works really well, is not that sensitive to spin, and comes off fast. Of course the speed of the blade has a lot to do with this, as the sponge starts to bottom out, but this is still a very positive feature of this rubber.

Counter looping and looping away from the table is not that effective with this rubber, as the sponge bottoms out, so the ball does not carry enough spin to give you the required control.

Chopping/pushing - well sure you can chop with the rubber and it will carry massive spin when you hit it right, but this is not what this rubber was meant for. For pushing you need a positive stroke, as the sponge is lively and springy... if you do it right the ball will stay low with good backspin... if you just stick you bat there the ball is likely to pop up, creating an easy ball for your opponent to put away.

Pilot Advance:
The Advance feel faster than the power to me, especially away from the table... Because of the soft sponge of the Power, it gets a lot more power from the blade, but Advance rubber itself is quite fast and maintains very good spin even at top-speeds.
I found the Advance a very nice and fast rubber that plays well in all aspects of the game. The sponge was not as lively as the Power, but still has lot of energy to generate both high speed and high spin with little effort, and the control was very good. It does not quite have the spin of Tenergy 05 in either slow or fast loops, but it's faster, still very spinny and definitely less sensitive to spin.

Blocking with this rubber is fast and quite insensitive to spin. Counter-looping works really well too, creating as fast and spinny ball. The throw is around medium-, which is what makes it good for blocking and and counter-looping. The firmer and less springy makes it easier to push and keep the ball low, the high grip of the top-sheet gives good spin on pushes too.

Spin:
Both these rubbers have a soft, grippy and very elastic top-sheet, making it very good for spin. Comparing them to the popular Tenergy05, the Power can generate more spin more easily for slow and spinny loops, due to it's thin grippy top-sheet and very lively sponge, but for other strokes the spin will be less. I don't think the Advance can beat the Tenergy05 for spin, but it makes up for it in higher speed and a much reduced sensitivity to spin.


Control:
Well these rubber are both meant for a modern attack style looping game, so this is the context in which we need to consider control. The good spin of these rubbers gives them good control for a looping style game. The control in the short game is reduced by the liveliness of the sponge (particularly the Power), but with positive strokes this can be compensated for.


Other Comments:
So far the rubbers seems quite durable, and after after 4/5 session I have not noticed much difference, and it still has it's initial shine. I expect this rubber to be quite durable, similar to other Japanese made sheets such as Stiga Boost / Tenergy, etc.
The throw of the rubbers seems around medium... the Advance a little lower than the Power.
Glue effect of both rubbers is very good, as good as the top glue-effect rubbers out there in the market. The Power is louder mainly due to the softer sponge, but both a good glue feel and sound.
I found the Pilot Power to be most suitable for initiating attack with either a flick or a slow spinny loop. It's mainly effective closer to the table to attack short balls, and punch-block or for counter-hitting against loops. The sponge is too soft for a power-looping style game, especially away from the table.
The Pilot Advance is great power-looping rubber, with tons of control and plenty of power and spin even well away from the table.
I was a bit confused that they called the Power rubber 'Power' with such a soft. It's certainly a powerful rubber, but I felt the Advance would be more likely to get the title of Power.
These rubber probably remind me a little of the Stiga Boost rubbers, the Power to the Boost TC and the Advance to Boost TP. I have not compared them side by side, but the Pilot top-sheet definitely feel gripper in play and generate spin more easily, although this in turn usually makes them more sensitive to spin as well. I suspect the Pilot rubber are a little faster too.

In in all I'm very impressed with these new rubbers from Cornilleau, and considering these are their first real professional rubbers, they are much better than I expected! I'm now keen to try their other 2 rubbers as well, although I don't believe these are quite as advanced as the Power and Advanced version.