The Double Snakes FQJ-2 table tennis robot is an advanced 2 wheel Pre-Programmed robot. The FQJ-2 robot is the advanced model compared to its little brother, the FQJ-1. The FQJ-1 model has a more basic control panel with fewer options. The FQJ-2 model comes as a "coach's trainer" type of robot. It has a separate IR remote that can be used by a trainer/coach/friend, to use while you're hitting balls. Not that everyone will have a coach with them while using the robot, but you can also put the small remote in your pocket while playing to start and stop the robot or change head positions if needed.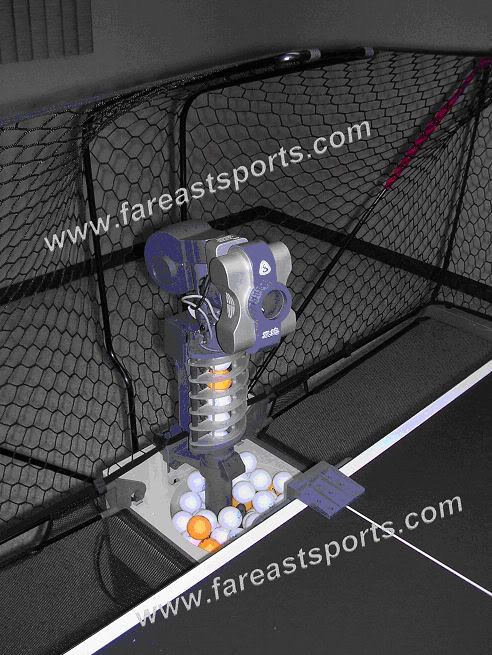 The Control Pad for this Double Snakes robot is set up with "pre-programmed" single serve and shot buttons. Basically, you just hit a single button on the control pad and it will perform a shot with pre set head angle and motor settings. The yellow buttons on the pad are for pre set 'shots". The pink pre set buttons are for a few various serves. This actually is a nice setup to quick practice a certain shot while being able to then change a few motor or head movement settings to get it set to throw a certain angle shot at you. You can then always return to that specific button's pre programmed setting at any time. While having those particular "pre programmed" settings, the control pad allows you change all head movement from separate keys on the pad. This is a very nice feature to quickly change the head position without walking back and forth to the robot end.

You can quickly move the head in several different ways with the control pad. One set of up and down buttons moves the head vertically from high angle down to a low service angle position. Another set of up and down buttons will move the spin rotation angle of the head, from straight up and down to full 90 degree for true side spin balls.

The encased throwing wheels are of a different design than other manufacture's throwing wheels. They are actually a 3 piece wheel. There are 2 plastic hubs or rims that fit together with a rubber skin or tread fitting between the hubs. Picture below is cropped from the manufactures web page. The cost of the replacement for the wheels is said to be "low cost". Not sure what that would be, hopefully the same as other wheels.
The Main Control Pad and Remote: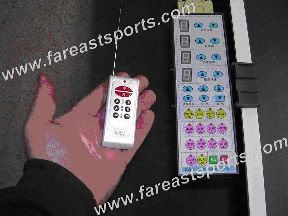 Main Functions top half of control pad.
Top wheel speed setting buttons, up or down.
Bottom wheel speed setting buttons, up or down.
Ball frequency (balls per min.) setting buttons, up or down.
Head oscillator setting buttons or L to R head movement across the table, fast, slow, or off for fixed landing point.
Range of ball spread setting buttons (width of ball landing area), wide to narrow.
Vertical head angle setting buttons, high to low, or various points.
Head rotation angle or spin angle setting buttons, straight upright, 45 degree, 90 degree or various degrees between all.
Pre-Programmed pink serve buttons and yellow shot buttons.
Slow high top spin shot.
Low heavy under spin shot.
Low heavy top spin shot.
Medium speed/spin, top spin loop.
Top spin serve.
45 degree right top spin serve.
45 degree left top spin serve.
90 degree right spin serve.
Under spin serve.
Right under spin serve.
Left under spin serve.
90 degree left spin serve.
No spin serve.
Long medium under spin shot.
Control Pad On and Off buttons.
The IR hand held mini remote has the following functions.
Control Pad On and Off buttons.
Balls per minute buttons.
Head oscillator buttons.
Head vertical angle buttons.
With these controls, the Double Snakes FQJ-2 robot covers a good way of robot training. The movements of the head when using the various buttons on the control pad are very smooth and extremely quiet! This robot is by far the quietest robot I have tested. Even when smashing loops back at it, the operational sounds of the robot are quieter than the sound of the ball being smashed by my racket. This was a very impressive element of the robot to me personally, as well as those of you whom may need a quiet robot if using in such places as apartments or where noise may be an issue. I liked the fact that the head angle will go much higher vertically than any other robot I have used. It produces a very high slower top spin lob with one of the pre set hit buttons. I found this shot to be pretty fun to return and use with various oscillation rates, widths, and speeds of head oscillation from left to right. This robot and the Super Master robot are what I would call "Oscillators". That means the movement of the head from left to right landing areas across the table, is a constant movement of the head from what ever end point of the spread you set. The head will not do random movement positions for ball landing. So basically you have to play with the balls per min setting and the speed of the head oscillation settings to get more random ball landing areas from left to right. Other robots will have the ability of the head to move at intervals of right to left points, in any combination of landing areas from 1 ball to the next in a sequence. At first this fact bothered me about the Super Master robot. Then after using the Double Snakes robot, it had more controls to offset this situation to be not a problem.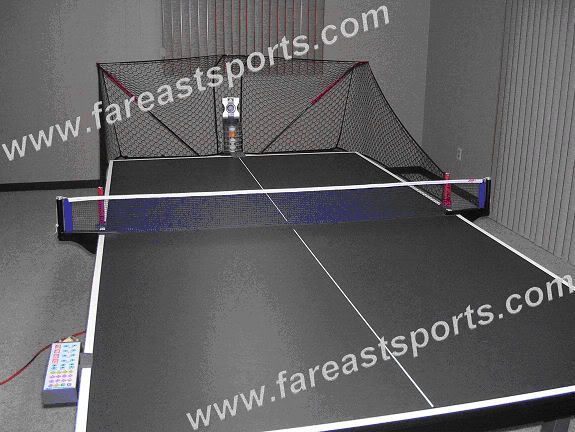 This robot is fairly light for what it is. The materials used in its build are much higher quality than the Super Master per say. Because this is a "hanging" robot, it needs to be fairly light weight. The plastics used with the Double Snakes are high quality, and some even seems like fiber molded plastic. You can tell pretty easily that even though it has a lot of plastic in materials used, it's not the typical cheapest injection molded stuff. The Catch Net works very- very well with this robot. The bottoms of the main fold down panels are made with nylon netting. They work perfect to dampen the balls and make for whisper quiet action with all the balls flying about into the netting and collection area. The back and sides of the catch net are made with stretch or rubber core strings, so they offer a nice way of absorbing the balls and not letting them rebound or spring off back to the table or off the table.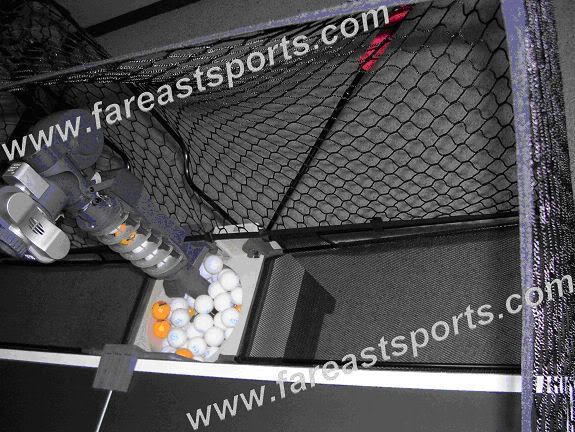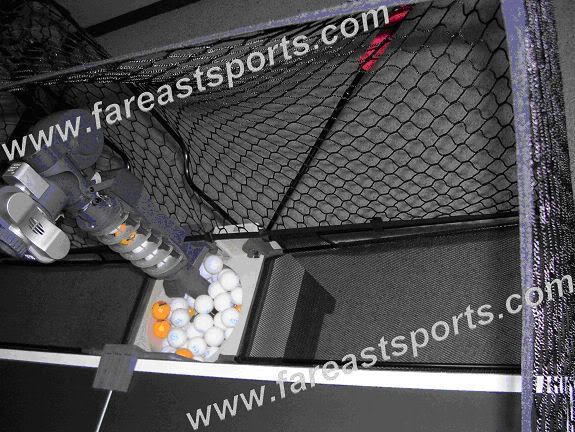 The ball pick up action is fairly unique on the Double Snakes. There is a circular element that spins under the intake tube that is very quiet, and also turns off when the robot is not shooting balls out. This helps keep this robot on the top of the list for low noise of operation. The bottom of the collection area and the circular pickup element are highly open and porous, making it is easy for dirt and dust to fall through to the floor. After the balls get pushed up the short section of intake tube, they go through an open area that has 4 sets of "cleaning whiskers" the balls pass before going into the head area. This helps quite a lot to keep dust and debris off the throwing wheels and head area. It is also very easy to open this part of the feed tube and clean off very quickly if needed.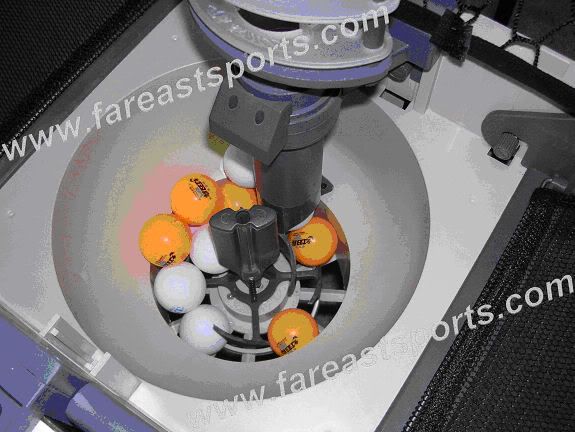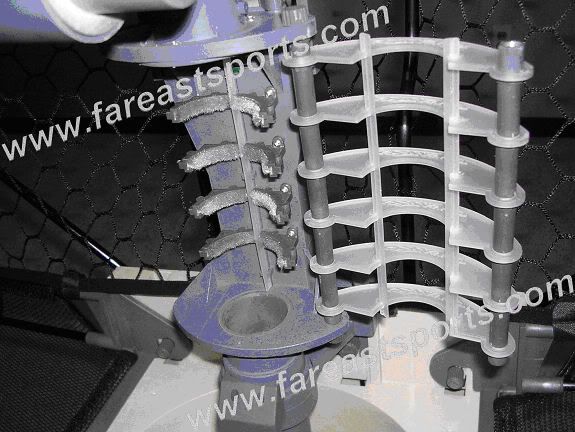 This robot also will fold up and store away in a slightly smaller area than the Super Master robot would. Basically the Double Snakes would not be quite as tall in its folded down state in comparison. The robot sets up very quick and easy. Set the robot on the end of the table, attach the side net hold clamps, attach the controller holding clamp, plug in the control cable from robot to control pad, then finally your power cord to the robot. The process takes just a few seconds more than setting up the other "floor standing" robots in my reviews. (I have heard a few comments 2nd hand about the Amicus and another robot being a more tedious and longer setup process than most robots, because of their net setup). So any worry about setup-take down time is not an issue here at all.

The FQJ-2 has a on and off button on the IR remote and the main control pad. It also has a power on and off button on the robot itself, just above the power cable input. The controller pad connects to the robot with a long serial cable, allowing it to be placed close to the hitting end of the table for ease of operation. There is also a little storage door for a few spare tools they provide.

Also keep in mind that this robot is made to sell in China. The instruction manuals in the package are all in Chinese. You can go to the manufactures website to get these manuals in English here: http://www.weihaiss.cn/en/company.htm Far East Sports will also include a English Setup Guide that explains the controls in detail, as all the buttons are labeled in Chinese.
You will need a voltage converter if you are outside of China using this robot. It was built to use China standard electric and cord end type. (Input Voltage is 220V, 3.5A, frequency 50HZ / Output voltage 12V, 5.2A, 60W). I have a simple step up/setup down voltage converter with Chinese cord adaptor built in as well for use here in the USA. So you will need to get one separately, may cost about $20.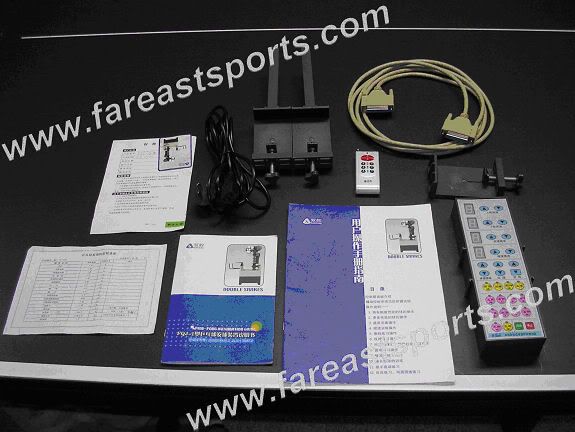 This is what you get from the manufacture in the package (besides what ever balls the seller provides for it).
Chinese manuals and documents.
Power cord.
Serial cable for control pad.
Side net clamps.
Controller clamp.
Control Pad.
IR hand held Remote.
In conclusion, I really like this robot a lot. I would like to own this one, pending on what the new Y&T 989-G robot turns out to be like. I was fairly skeptical of having a hanging mount type robot with contestant oscillating head movement. After just a small amount of time testing this robot, I have no worries about those considerations with the Double Snakes FQJ-2. It is a very smooth operating robot with very quiet operational noise. Its features and functions are advanced enough for beginners to highly skilled players to enjoy while training or simply passing time. With ease of setup and function, then adding its performance value with build quality, this robot ranks very high on my referral list! I must say I was let down when I first found out that it will not produce varying spin type balls in a sequence of balls thrown. But after using the robot and understanding its full capabilities, this did not bother me much at all. Though I would love to have the "spin change from ball to ball in a sequence" on any robot, this factor did not lessen my overall opinion of the robot as a great training tool. Once again, no one robot has it all. Because of design build type and electronics used, some robots have elements others do not have. Some robots do certain things better than others, while certain robots have "trade off's" compared to others.
Overall, I give the FQJ-2 robot a 9 out of 10 rating.
Review by Rich215 (published with permission)