Review by haggisv:
Visual inspection:
Hardness marked at 54deg, which is around 42deg on my scale. This is a little harder than I expected, which worries me a little as I don't like the rubbers too hard, but perhaps the topsheet is soft enough to compensate for it. Thickness is maximum.
Weight of the uncut sheet of 169 x 169mm is 70g, which is rather heavy (0.0025g/mm2).
The sponge looks porous and has a real dry feel. I can't see, smell or feel any evidence of tuners/boosters.
The topsheet is indeed tacky. I suspect it's only mildly tacky, but it's tacky nevertheless, which is quite exciting! I'll see if I can pick up a ball with it as soon as I've glued it onto my bat.

Some pictures:
Cover:
The package and cover is pretty basic, and less impressive than many Chinese rubbers. I think they could have put a little more effort into this, but it's not a big deal.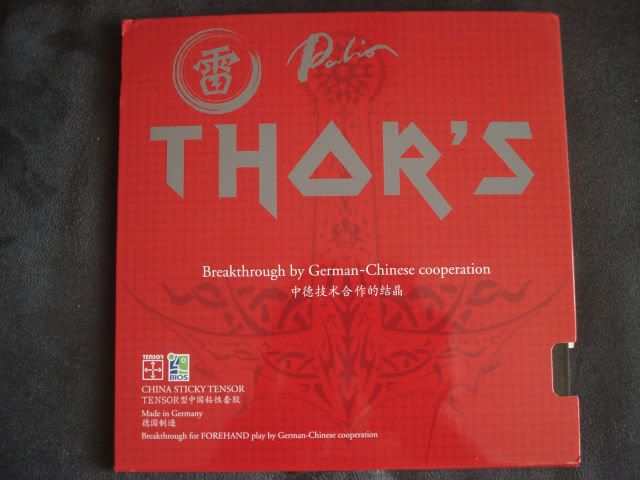 There were quite a few dirt marks on the inside of the over, like scuff marks... not sure if they all have this:



Sponge:
The sponge had a real dry feel, and it looked like it had dried out just a little just on the surface. Didn't feel like it would affect the characteristics, but it's not quite what I'm used to from ESN.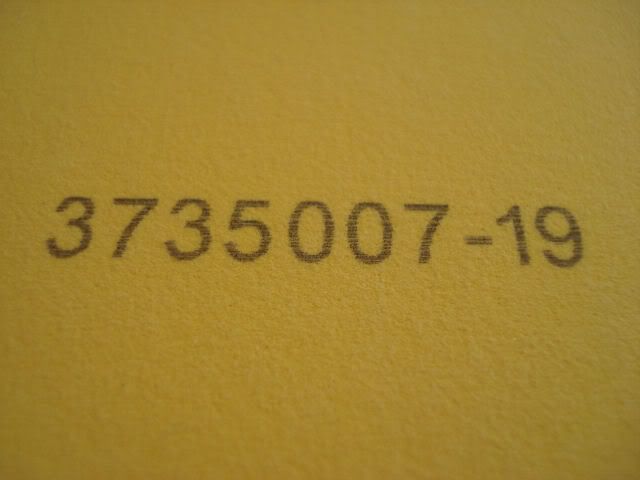 Topsheet:
Topsheet looked top quality and the logos were very sharp. I removed the plastic protection sheet for the pictures, which is why you can see some less shiny areas around the logo. Strangely the plastic protection sheet was not put on quite straight, as if they added these after they cut the sheet.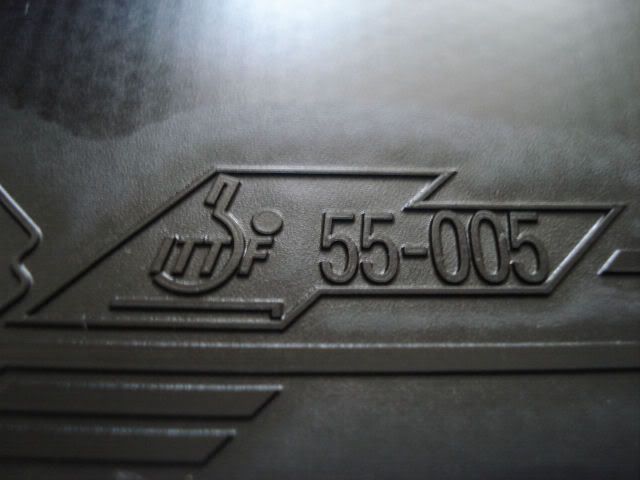 Side closeup:
AS you can see, bigger pores than most CHinese sponges, but not quite as big as something Tenergy:

Part 2:
OK, I've had a short practice session, as well as taking it for a spin in our local comp, so I'll share my thoughs so far.

The topsheet has quite a soft feel, and has definite tension built in like you get from other Tensors. I don't know if it's the topsheet or the spring in the sponge, but the rubber really does not feel as hard as I expected, considering the fairly firm sponge.

In addition, the feel of the ball onto the bat is surprisingly good, considering the firm sponge. With many firm sponged rubbers, you just don't feel the ball anymore, with Thor's you can feel the ball very well.

Serves:
Spin on serves is very good, similar to most tacky rubbers, and it's easier to generate high spin compared to non-tacky rubbers.

Short game:
The Thor's shines here! The feeling is slow and very controlled, and it takes little effort to put a lot of spin on the ball. Although most tacky rubbers are like this too, the Thor's seemed quite insensitive to spin (for a tacky rubber), so it was more forgiving.

Looping:
The most important thing for my game, and it performs superbly here! Slow spinny loops were massively spinny. The topsheet felt very much like the Globe 999 topsheet...soft and highly elastic. However unlike the 999 (unglued), I could speed this up to medium pace loops, with both speed and spin on the increase. This gave me a great feeling of control...for slow-medijm paced loops I got the feeling I simply could not miss... I've not had this feeling since a nicely glued up 999 nat!
As you loop faster, the sponge engages more and more, and the rubbers becomes faster and faster. If you continue to brush, you still get very high spin, but if you hit through the ball more the spin stays the same, unlike T05 which gives very high spin even when you hit through the ball more.
What really stood out for this rubber, which sets it apart from other tacky firm sponged rubbers, is that the feeling of Thor's is very linear for the same stroke. As you increase the speed of the stroke, the ball comes of faster and spinnier, whereas with other tacky rubbers where there seems to be a distinct transition where the sponge kicks in, and the spin stops increasing.
Throw: For brush loops, the throw is fairly high, similar to 999 or Apollo, so I pretty much required no adjustment! For loop-drives the throw felt medium.

Speed: The low gear speed is faster than most tacky rubbers, but not as fast as many tensors or T05, although not far off. Since the rubber won't bottom out, high-end speed is still less blade dependent, which tends to slow it down a little, but for me it had plenty of speed to hit it past people. On the Tachi that I used, it gave the whole FH a more solid feel, and felt quite powerful considering this blade (FH side) is probably no faster than OFF-

Blocking/Hitting:
Performance was good for both hitting and blocking, closer to other firm sponged tensors than tacky rubbers. Tt was not particularly sensitive to spin and quite forgiving, certainly better than something like T05, but not as nice as something like Outlaw.

Sound/Glue feel:
Since the sponge is firm, the glue feel or sound is always quite low, and the Thor's was no exception. The sound was there on fast loops or hits though, and the glue feel of a stretched topsheet was definitely there too, so there's no doubt this is a true tensor!

Conclusion (so far):
For me, this rubber is as big a breakthrough in tacky rubber technology, as the Tenergy was for non-tacky rubbers. I need more time to test and find any potential weaknesses, but the benefits I've found so far are easily enough for me to change over to this rubber for my standard setup. It's easily the closest I've come to finding my ideal rubber, since the glue ban!
Part 3:
Just an update on this rubber, as I've used it for about a month now and easily 10+ sessions.

This rubber is durable... if you look after it just a tacky rubber (clean and with plastic protection sheet) it will last a long time. After all this time I've noticed no significant loss in performance, and the topsheet still looks great! The feel of tension in the topsheet is still there, and does not feel like it's changed much.

My views on this rubber really haven't changed...my initial review pretty much spot as far as I experience the rubber.

As I've got used to it, I no find it quite good for hitting, whereas initially I had some trouble. Hitting hard and flat is not that sensitive to spin and has good power, even on my blade.

I can also chop quite well with it, which also took some adjustment, but the control is quite good and spin very heavy.

On powerloops the spin is good, but not outstanding... the more you brush the more spin. Powerloop with sidespin and you always get a big kick. Looping with sidespin much naturally engage the topsheet more I guess.

I've heard from others that this rubber is a little blade dependent, but it certainly suits my blade very well. When I'm ready to rip the sheet off this blade, I'll try it on some others, but for now, it's a definite keeper.