Stiga Syncro BTG glue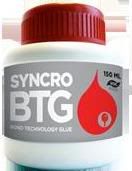 Manufacturer description:
Bond Technology Glue.
Thin waterbased glue provides both excellent bonding and easy removal! Normally with waterbased glues the glue is very difficult to remove from the blade and sponge. But with the unique new formula of Syncro BTG (Bond Technology Glue), these problems are over! Syncro BTG contains a unique combination of rubber and glue that is thin, soft, and flexible.
It spreads very easily in a thin and even layer on the blade and rubber. It provides excellent attachment, but when it is time to remove the rubber from the blade, the glue and rubber come off very easily. Comes with brush.

Review by haggisv:
I wanted to try this glue, as I've heard some good things about it, and I'd really like to find a good alternative to thinned down rubber cement, which I'm still using for most today.

The glue comes in a 150ml plastic bottle as shown. There is brush on the inside of the lid, which I prefer as a application method. The bottle opened with a squeeky sound, and when I looked inside it was because there was a little dried glue on the thread of the lid. Not a big deal, and it probably seals the bottle better, so that's fine.

The glue itself is very thin, and has a faint ammonia smell, indicating that this is probably also a latex based glue with the ammonia as the main solvent. The smell seemed to disappear almost straight after application, so I doubt it will be an issue with any of the VOC detectors. Since the glue is quite thin and only a thin application is required, I expect a 150ml will do many bats and will last a long time.

The brush bristles were a little coarse for my liking, but it still spread OK on the blade and rubber. This glue requires a thin layer of glue on both the rubber and blade, and it's easy to see what area you've covered as it's quite white as you can see from the pictures.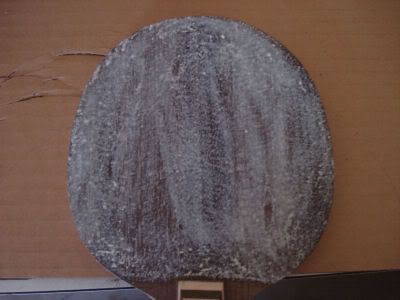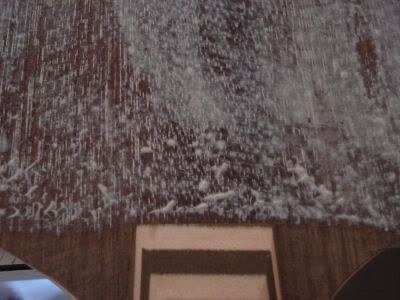 When spreading it out, you need to brush over it a few time to get an even layer. A few times I got a few little hard bits upon spreading, which are dried bits of the latex, which you need to remove or it could leave a little bump.

Drying time was only a few mins, probably speeded up since it's quite warm and dry here at the moment. You can easily see when it's dry, as the glue becomes clear. As expected it does not dome the rubber at all, it seems to dry completely on the surface.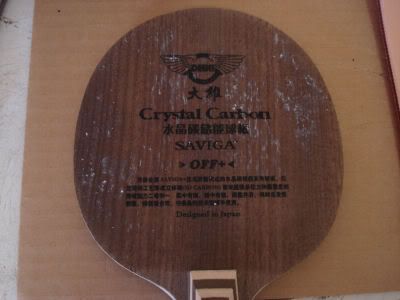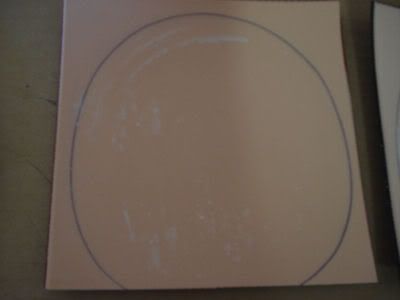 Once it's dry it hardly feels sticky at all, and does not stick to other surfaces. I felt it wasn't going to stick that well at all, but together they make quite a strong bond.

Take care when you put it together... once any part is stuck together it can't be moved. If you pull it back apart it's not longer sticky as the glue has dried, so you'd need to re-glue the sheet again.

Although the bond is quite strong, it does pull apart fairly easily with a bit of effort, and all the glue tend to stick to either the blade or the rubber, and it's quite easily rubbed off if required.

A bonus is that once you've pressed down the rubber, there is really no need to clamp it, as it stick well immediately, and I doubt pressure if going to do anything more.

So is it a good substitute for rubber cement? Well I still prefer rubber cement as it's still easier to use, it's cheaper and any bits that come up, you can simply press down again and it sticks again. It does alos have a mild priming effect on the sponge, which I also like.

However it's the best water based glue I've tried... it's easy to use and apply, dries quite quickly, forms a good bond. The biggest bonus is the removal, as it removed all traces of the glue (it seems) where as rubber cement does change the rubber after several applications. Another good reason to use this glue it that it poses less health issues... the rubber cement is toxic and repeated use (especially without ventilation) can affect your health. It's a little expensive, but a little bottle will last a long time. I'm quite impressed with the glue and think it's worth the money.